A Few Incidents When Religious Susceptibilities Were Shocked
Edit
[583]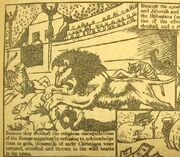 Because they shocked the religious susceptibilities of the Roman emperors by refusing to acknowledge them as gods, thousands of early Christians were tortured, crucified and thrown to the wild beasts in the arena.
When school children refuse to salute the flag because of conscience, the Hierarchy, considering themselves as the "higher powers" and the flag as their own (since Roosevelt), have their religious susceptibilities shocked some more.
[587]
Philistia [Catholic Action] A Murderess for 1500 Years
Edit
15th Feb. 1936
Station W.I.P., Gimbel Bros., Phila.
Dear Sirs:
As a Catholic Clergyman & as Pastor of the above named church [Church of Our Lady of the Blessed Sacrament, Holy Ghost Fathers, 214 N. Broad Street, Philadelphia], in the name of my parishioners, I protest against you allowing broadcasting facilities to Judge Rutherford next Sunday afternoon at 3 PM or any other time. My reasons for this protest are that Judge Rutherford attacks the Catholic Church, misrepresents her teachings, & foments religious hatred & bigotry. If the said Judge is allowed to speak next Sunday afternoon, please take my name off your charge account list, because I will never spend another penny to Gimbel Bros. store. The surprise is that you would allow such a broadcast & thereby expose a very large per cent of your customers to open insult & ridicule.
Hoping you will take the necessary action.
Respectfully,
(Rev.) James J. Clarke, Pastor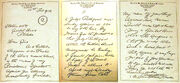 ---
"All readers of The Golden Age know if the desperate attempts made by the Catholic press of America (the pope's own voice, so he says) to crowd Judge Rutherford off the air, and that by methods that would have been a disgrace to use at a dog fight. Intimidation, boycott, threats, slander and misrepresentation were freely resorted to. The attempt was unsuccessful, less than thirty stations capitulating out of more than three hundred attacked.